Custom Awnings and Automatic Sun Shade Installation
Reddi offers custom awnings, sun screens, automatic shades and other comfort enhancing outdoor living products
Automatic and manual awnings and shades can expand your living space and extend the outdoor living season. These products can also reduce energy expenses inside your home or business by naturally lowering indoor temperatures. We offer free estimates in the Wichita area, call or email for a free consultation.
Free Estimates:
Retractable Awnings
The Ultimate Sunblock! Retractable awnings provide shade on demand. All of our retractable awnings are custom made to fit your tastes and requirements. Patio awnings range in width from 5' to 40' and can project as much as 16'. There are 4 powder coated frame colors and over 200 fabric colors to choose from. Our awnings can be manually operated or motorized.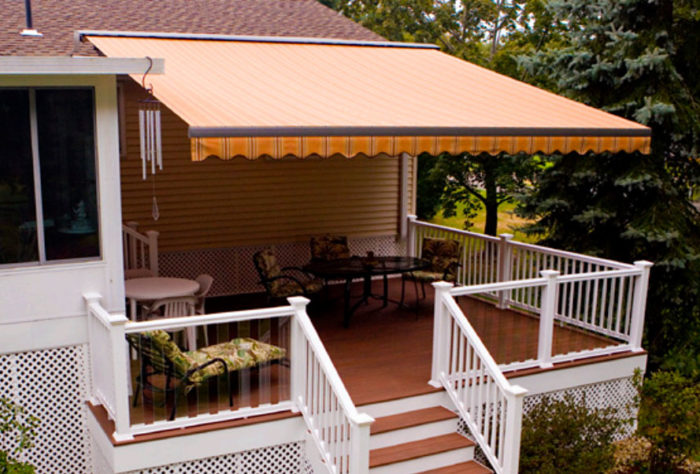 Eclipse Shading Systems
Eclipse is one of our top selling awning and shade systems. These awnings and sunscreens are custom made, and designed to match your home's aesthetic. An awning or shade can greatly reduce energy usage inside your home. Or they can help expand the use of a patio, deck, or outdoor living space through added comfort and rain cover.
Solar Screens
We offer automatic and manual sun screens and shades for home, patios, decks, sunrooms and businesses.
By effectively stopping most of the sun's energy BEFORE it enters your home or business, your solar screen will reduce indoor temperatures up to 25 degrees while lowering cooling costs by up to 40%. When extended during the winter months, your Shade will provide an insulating layer of protection from the elements, allowing year round function. In addition to added comfort, sun screens are a sound investment and will pay for itself over time in energy savings.
Intelligent Solar Protection
Exterior solar shading systems can be designed to operate automatically with sun and wind sensors to provide you with optimum solar protection, while extending the life of your furniture, carpet and interior of your home. Your shading system, which may consist of a series of units, can be controlled with a single touch-of-a-button or automatically by the sun and wind, whether you're home or away – adding an element of security with the appearance that you are home.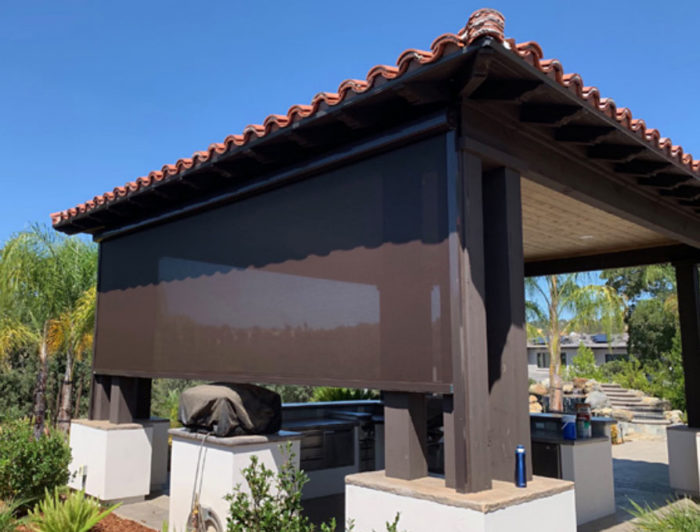 Rolling Shutters
Rolling shutters are custom made and come in a wide range of colors. They can be motorized or operated manually with a pull strap or hand crank. Rolling shutters are made with roll formed aluminum and a foam core to provide the ultimate protection from the elements. Rolling shutters provide protection from sun, wind, cold, leaks, condensation and theft. They are ideal for windows, doors, Sky lites and serving windows.
Outdoor Living
Extend your living space and make the most of Wichita's unique climate with products designed to enhance comfort year-round.
We are proud to partner with Eclipse Shading Systems and Corradi USA to provide the ultimate in Outdoor Living Space. From retractable roof systems to side curtains… outdoor furnishings to retractable sail awnings, we have you covered. Call today to see our full line of Outdoor Living Products.